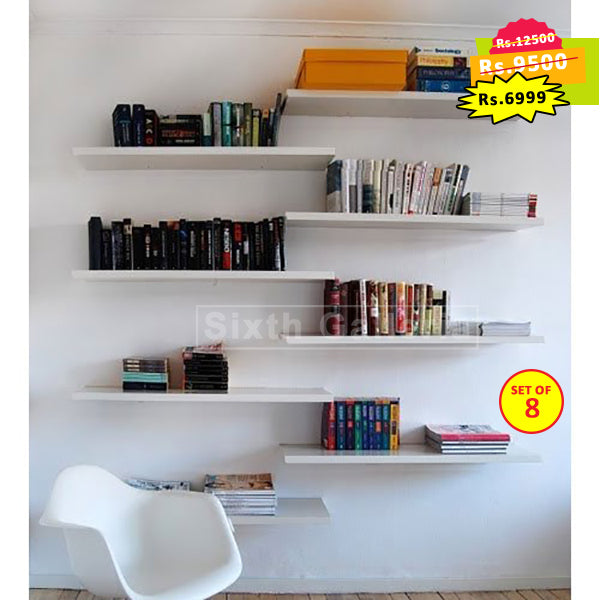 Floating Shelves Set of 8
Regular price Rs.9,500.00 Rs.6,999.00 Sale
If you want to decorate a full wall, or create a full wall 'media console', or a big storage solution, this is the best option for you. We are offering these floating shelves on a discounted rate for people who want to buy more than just 3. This is a set of 8 floating wall shelves, which will decorate a full wall and will also provide a lot of extra storage space. 
Unlike others in the market, Sixthgalleria exclusively offers these TRUE floating wall shelves, which means that once installed, their hanging hardware is not at all visible and is completely hidden on the back of the shelves. Despite the neat and elegant looks, these shelves are designed to take a large amount of weight. 
Feel free to put heavy-weighted items on them, like books, as our floating wall shelves are supported by 6 inch long thick bolts (custom made by Sixthgalleria), not just average screws, and hence these are sturdy and can take heavy weights.
ALL Installation hardware (which is hidden on the back of the shelves) will be provided with the shelves, so please don't worry about that. Easy installation. No expert needed.
Colors can be chosen from the drop-down menu. Sixthgalleria offers 4 colors, black, white, walnut brown, and oak brown.
Size: 8 X (24inches X 8inches X 3/4inches)
Material: Engineered Wood (MDF/CB)
FREE Delivery ALL over Pakistan
Cash on Delivery